Leading Kid-Focused Startup CEOs Among First Digital Kids Summit Speakers Announced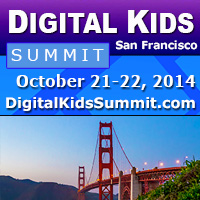 With a just over 100 days until Digital Kids Summit on October 21-22, 2014 in San Francisco we are pleased to announce our first round of speakers, including CEOs and co-founders of some of the leading start-ups in kids games and digital media. Digital Kids Summit gives you what you need to know to create and sell best-of-breed children's video games and digital media.
Today's speaker announcement includes:
Additional speakers announced today include:
Alice Brooks, Co-Founder, Roominate
Michael Cai, Senior Vice President of Research, Interpret
Donnie Kerrigan , Founder and MD, Chunk
Nancy MacIntyre, CEO, Fingerprint
Billy Macqueen, Co-Director, Darrall Macqueen Ltd
Izzy Neis, Director of Digital Strategy and Engagement, Metaverse Mod Squad
Luca Prasso, CEO, Co-Founder, Curious Hat
Vicky Rideout, Editor of Reviews and Commentary, Journal of Children and Media
Natalie Shahmiri, Marketing Director, Smart Bomb Interactive
These are just a few, with more on the way.
Take a moment to register now. Attendees have multiple registration options: registering for DKS Entertainment Day (Oct. 22nd), registering for DKS Learning Day (Oct. 21st) – or registering for both days at a great discount. Registration for a single day is $295 when you register prior to September 19th. Registration for both days - All Access Pass – is only $100 more by September 19th.