Our Toy Fair Partnership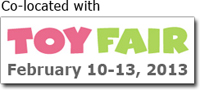 We are pleased to share that not only is Digital Kids Conference returning to NYC for 2013 (February 12-13, 2013) but we have once again partnered with The Toy Industry Association (TIA)'s American International Toy Fair which takes place (February 10-13). This partnership is exciting for a number of reasons:
1. Co-location - Both show's take place in Javits Convention Center
This allows for fantastic cross networking between Digital Kids attendees and Toy fair attendees, allowing an acceleration of business, without having to leave the Javits Convention Center.
2. Digital Kids Conference attendees have free access to Toy Fair Expo hall
A great value to anyone looking to expand their business, Digital Kids Con attendees can walk the Toy Fair Expo hall free (your Digital Kids Conference badge gets you in).  Walk the floor to meet with brand owners and manufacturers.
3. Pre-Show Cross Marketing
More than just a physical co-location partnership, this relationship extends to marketing activities as well.  We welcome the TIA's marketing muscle and their deep reach to the entire entertainment marketplace, spanning toys to filmed entertainment. Digital Kids Conference attendees will once again span the gambit.
What are you waiting for?  Register now.