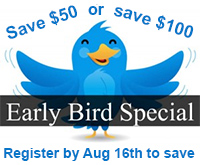 Please join us at Digital Kids Summit (Sept. 19th) in San Francisco at the Children's Creativity Museum. Earlybird registration ends this Friday, August 16th. Register now for for $245.
Digital Kids Summit - What you need to know to create strong, best-selling interactive entertainment products and services for kids. Speakers include veterans from Pixar, Activision, Disney, Google, Club Penguin, Lightspeed Ventures and more. Up your game!  Learn the best techniques; from monetization and pricing to innovative product design strategies. http://DigitalKidsSummit.com/
Save when you register before August 16th
Attendees have multiple registration options: registering for Digital Kids Summit, registering for Digital Kids Edu taking the day prior to the Summit, or registering for both events at a discount. Registration for a single event is $245 when you register prior to August 16th. The price is $295 thereafter. Registration for both events is $395 before August 16th or $495 thereafter. http://digitalkidssummit.com/register/
- Globally Speaking – Trends and Numbers
- Understanding App Value From Parent's Perspective
- Characters & Conversation
- Engaging via People, not Products
- Two Customers in One: Game Development for Parent & Child
- Uniting Digital and Real World Experiences
- Integrating Toys in Digital Gameplay
- Creating Products and Services that Sell Well
- Re-imagining Traditional Brands for Today's Digital Natives
- How to enter the market, and make a splash – An Investor Shares His Insight
- The Kids' Perspective – An Onsite Focus Group
We hope to see you in San Francisco.